Bead Shopping in Hong Kong...2007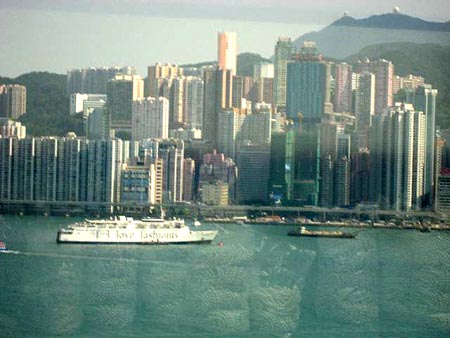 Another really wonderful place to go bead shopping if you want a change from Europe is Hong Kong – the shopping jewel of Asia.
View of Hong Kong island from
pearl building (see pearls in
background reflection).
Hong Kong was a British Colony that returned to China in 1997 as a special economic region – which means capitalism will continue unabated for the next 50 years. Communicating is no problem as English is widely spoken, especially in the tourist areas, and most good restaurants have English language menus.
As for beads, the place to be is on the Kowloon peninsula, which is the residential district of Hong Kong, and home to most of Hong Kong's teeming millions.
The pearl District is located in Tsim Sha Tsui, a 6 block area bordered on by Chatham Rd, Nathan Rd, Cameron Rd and the water front/Salisbury Road.
You will fly into the large International Airport and catch a shuttle bus or taxi into Kowloon. Most of the good hotels are on Nathan Road, which is conveniently located to the Jade market, Tsim Sha Tsui , Hung Hom district and the button and trim district which is located in the New Territories.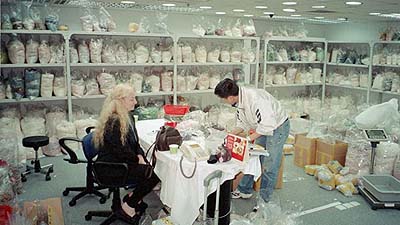 Walk down Nathan Road towards Cameron Road, passing hotels, shops, McDonalds and Starbucks by the dozens, constantly being solicited by Indians offering you tailor made custom suits, shirts, leather jackets, shoes, or a referral into a massage parlor or restaurant hidden down an alley or tucked away on the 5th floor of a building you would never find by yourself, until you come to the pearl District, Tsim Sha Tsui. There you will find tall sky scrapers filled on almost every level with pearl showrooms stuffed with millions of dollars of pearls, ranging from 1mm seed pearls to keishi pearls, stick pearls, baroque, South Sea pearls, Tahitians, cultured, freshwater, even glass faux pearls. If you can't find it in Tsim Sha Tsui, maybe it doesn't exist. For the most part, you don't need an appointment to get in the front door of the showroom, just a business card and an interest in pearls. Once inside, you will be overwhelmed with sacks of pearls from floor to ceiling, stacked on top of each other, or on shelves and tables.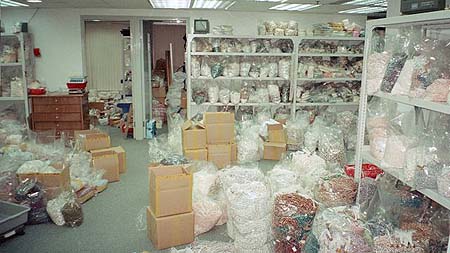 People will be sorting and grading pearls, filling orders, telephones will be ringing off the hook, people taking orders, running around with armfuls of pearls, customers digging in sacks of pearls at tables, on the floor, suitcases on wheels everywhere for transportation of purchases back to hotel rooms for later shipment back home. Chaos? Sure. Fun? Better than a barrel full of monkeys. Exhausted by the end of the day? Yeah, but then there is the best Chinese food in the world waiting for you to taste and sample. Or Japanese sushi, or Indian, or Thai…..Aaah! (look for the white table cloths on tables and you will know you found an excellent restaurant).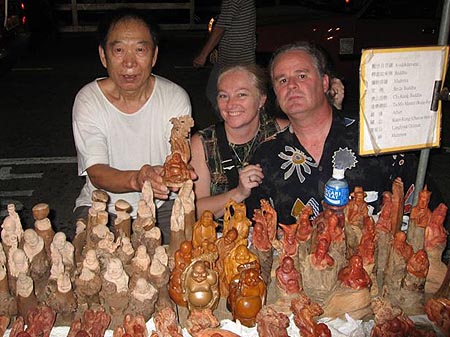 If its stone beads you are looking for, then the Hung Hom District is the place for you. Just a short taxi drive away, the Hung Hom District is home to hundreds of stone bead showrooms just like the pearl district. Some of the stone showrooms are a bit stand offish to allow you entry. You may have to explain what you are looking for in order to start shopping. Because of limited space, Hong Kong is a vertical city, with tall building everywhere. Just enter any building and browse the lobby directory to find any number of manufacturers showrooms for stone beads, silver findings, jewelry
Artist with J-ME and Guy - Temple Market
Hung Hom District – Kowloon.
Most of the stone and pearl dealers will accept credit cards for payment, of course all will accept cash (US dollars) some will accept business checks, and if you are planning to ship your beads home instead of carrying them home in your suitcase then they all will accept wire transfers from your bank to theirs. A few will accept travelers checks (but getting less all the time).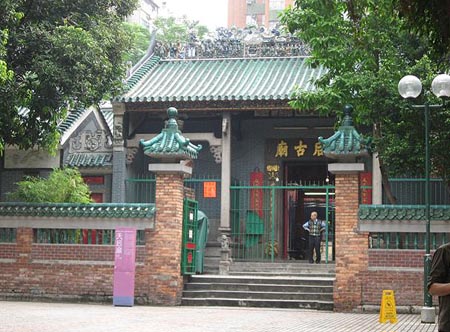 Nothing is produced in Hong Kong – it is the sales capital of Asia. All the factories for pearls and stone beads are across the border in Shenzen and Ghangzhou which require a tourist visa ahead of time to be able to enter mainland China.
If it is buttons and /or fabric and trim you are looking for , then the Sham Shui Po District is definitely for you. It is located in the New Territories just a short taxi drive away from down town Kowloon.
Sham Shui Po district
10 Blocks of button/fabric/trim shops, the Sham Shui Po district is a wonderland of mother of pearl buttons, metal buttons, lace, trim, fabric, fur, silk… you name it. You will do a lot of bargaining in this area.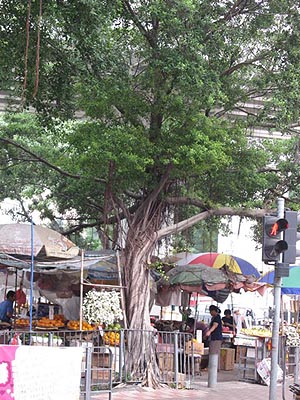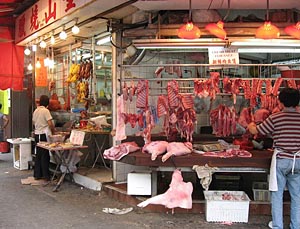 Two blocks off Nathan Road is Temple Street – in the morning it becomes a busy farmer's market, with street vendors hawking everything grown under the sun, fruit, vegetables, live animals, fowl, dead animals, sea creatures, some unidentifiable, some very scary looking. Pavement restaurants are open and doing a fine business. The street is packed.
And then round 5pm, Temple Street transforms itself into a flea market with junky Chinese toys, clothes, paintings, dust collectors, trinkets, things you can't do without, stuff you don't want, and at one end near the Jade Market all the arts and craft dealers with hand made artwork and carvings. The street becomes so packed you can't walk. Pavement restaurants are open and doing a phenomenal business.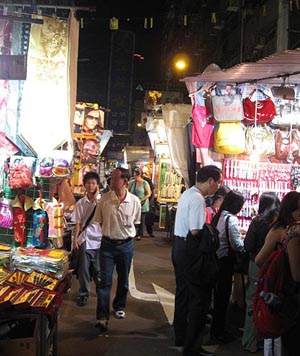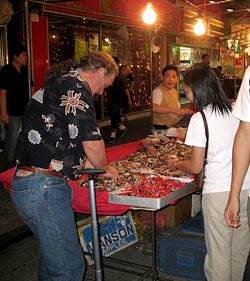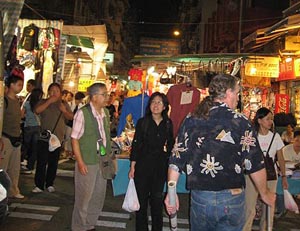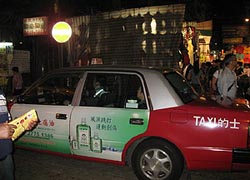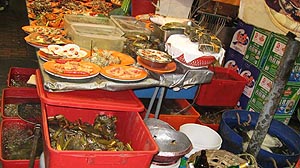 It turns out that apartments in Hong Kong are so small no one invites friends home to entertain, they all go out to eat and socialize. Better restaurants are inside buildings, and because Hong Kong residents love fresh seafood, most restaurants have aquariums in their lobbies filled with live lobsters, prawns, tropical fish, which they catch and cook as the orders are placed from the customers at the tables.
The Jade Market is next to Temple Street, 2 blocks off from Nathan Road at its northern end. It is several buildings filled with vendors and dealers of mostly jade merchandise ranging from tea sets, crockery, jewelry, statues, knick knacks and other assorted goodies. It is a retail market, but wholesale is available and good negotiations on prices make for a fun day of buying and haggling for unique items.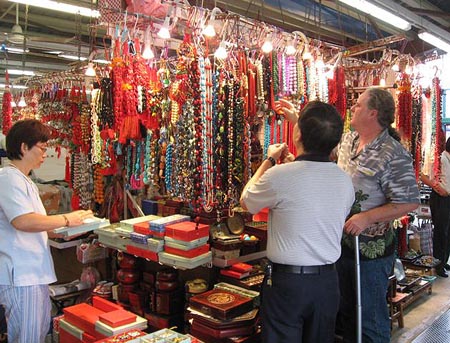 Other than beads, Hong Kong is a fun, exciting city to visit and shop in (especially for clothing). It is tax free, and prices range from cheap to very expensive.
Spend a day being a tourist – take a bus ride north through the New Territories to a fishing village, right up to the Chinese border, visit a Buddhist Temple, see the worlds largest Buddhist statue, take the cable car up Victoria Peak for an amazing view of Hong Kong's financial district on Hong Kong Island and Kowloon Peninsula, enjoy the wonderfully friendly people who live here. (If you want to talk to a stranger, just stand on a street corner and open a street map. Some one will almost immediately offer to help you.) Hong Kong is a safe city to visit. It is a late night city too, with crowded streets of people all talking on cell phones. You will probably be the tallest person you see.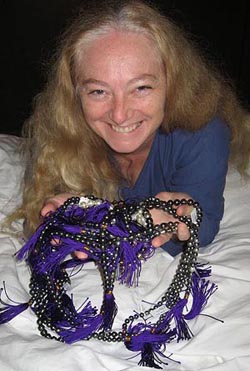 And if this isn't enough for you, Hong Kong hosts one of the largest trade shows in the world in September in the Hong Kong Convention Center in down town Kowloon. Venders from all over Asia attend this show, and customers from all over the world attend to buy.
Enjoy, and see you there.
J-ME with some of our beautiful
Tahitian Pearls.
Wild Things Beads is a small Family owned and run American importer of glass beads and buttons from the Czech Republic, precious and semi precious stone beads from India and China, and pearls. They are situated deep in the Sierra Nevada mountains of Northern California, and can be reached by phone at (530)743 1339 or on the web at www.wildthingsbeads.com. Their warehouse is available by appointment only.