Bead Shopping in Northern California . . . 2008 - 2013
Imagine if a bead could talk . . . Where would you find it? What would it say? How would it look? What stories could it tell you? Here is one such story.
Northern California is a beautiful part of the world, home to mountains and redwood forests, ski slopes, rock climbing, pine trees, beaches, wineries, quaint towns and lakes. It is less crowded here, and a great area to get away for the weekend from the San Francisco Bay Area and the bustle of a huge metropolitan area. If beads are in your plans for a quiet weekend along with wine tasting and lunch at a quaint restaurant in a small mountain town, then even better. This part of the country is loaded with bead stores and warehouses just waiting to be discovered.
Escape the Bay Area by driving east over the Altamont Pass towards Stockton or north past Berkeley and Albany towards Sacramento. Watch as the landscape turns from houses, commercial strips and industrial parks to rural farms and ranchland, and you start seeing more horses and cows than people. The traffic starts to thin. I-5 is still crowded, as is I-80, but get on those side roads towards Stockton or Napa or Sonora, Sonoma and Santa Rosa, and things get better right away. Just an hour north, and the city melts away. Sacramento, the State Capitol, is crazy, but get past that and you're home free. Look east, and you can see the distant snow capped Sierra Nevada mountains beckoning you to come. Go north, and the green vineyards and tall redwood trees seem to just dissolve your stress away. Cute little towns like Windsor and Mendocino, Grass Valley, Nevada City and Auburn start tugging at your interest as you drive past or through them as you begin to explore the area. Where do you start?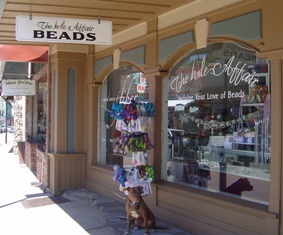 The answer is -- anywhere. Google search bead stores in California and then look at a map. Decide on how far you want to drive and what you want to do when you get there besides bead shopping. If two hours east of Livermore/Pleasanton is where you decide, then Jackson, county seat of Amador County is a great place to start. Besides being in the heart of the Sierra's, with all the wonderful clean pine smelling air and gorgeous mountain vistas, you are in gold country. Towns around here have a long history of gold mining; with museums, historic downtowns, rivers to pan in, old mines to explore, street festivals and shops to buy from.
The Hole Affair in Jackson, CA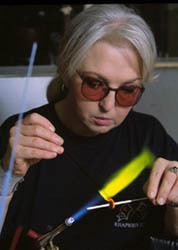 Syndre's Ranch Pow Wow
Jackson has a wonderful bead and yarn store owned by Annette Shirley called The Hole Affair. It is right on Main Street in historic downtown Jackson, and is worth a visit. On the same street is an Indian trading post and bead shop called Full Circle Trading Post, where Richard can show you a variety of interesting old Trade Beads. Just a few miles upcountry in Pioneer is Vickie Lee Studios, a well known glass artist. Towns nearby include Sutter Creek, Mariposa. Angels Camp, Valley Springs (which hosts a wonderful PowWow in the spring). Yosemite is only a hop and a skip along Hwy 49, going south.
Vickie Lee on the torch in Pioneer, CA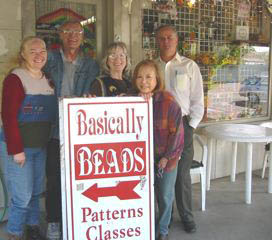 Further north on Hwy 49 is Placerville, another goldmining town and a fabulous place to visit. There you will find Lisa at Bell Tower Beads and close by in Diamond Springs is Basically Beads. Two great bead stores owned by two nice, knowledgeable beaders who love beads and love living in the mountains. Since we originally started writing this article, Bob & Diane of Basically Beads have retired and their Daughter has carried on the tradition of keeping the love of beads alive.
Bob & Diane of Basically Beads in Diamond Springs, CA
River rafting is close by, as is gold panning, hiking, horse riding or just relaxing with your bead project to work on at a wonderful bed and breakfast inn in town or RV park if that is how you travel. You feel like you are a million miles from the city, but Sacramento is just an hour away.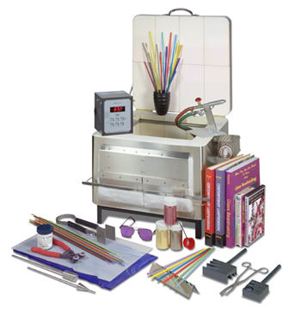 Also close by is Craig & Donna of Arrow Springs, one of the best sources for glass bead making supplies, and a regular supply field trip is made by members of the Northern California Glass Beadmakers every few months from the Bay Area to take advantage of the great deals and volume discounts owner Craig and Donna offer to this group. If you are a beadmaker and did not know about the group, contact Sharon Peters at http://www.smartassglass.com to join.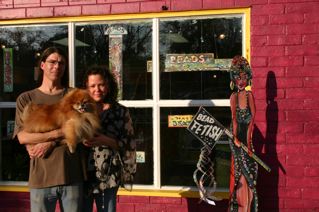 Kim and Scott of
The Bead Fetish in Sacramento, CA
Although Sacramento is a big city, I would be remiss not to mention all the bead stores and warehouses available in this area to the traveler just passing through. A review of the yellow pages and/or google search will give the best selection, but just to mention some would include The Bead Shoppe with two locations scattered around the city; Kim at The Bead Fetish, Bead Ware in Elk Grove, Piece of Mind Jewels owned by Gretchen Schueller, Teresa of Beads and Treasures which is actually in Rocklin.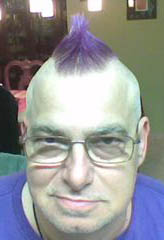 And lets not forget the Beadbabe -- owned by Tonette, who along with her partner Bill publish an online Ezine the BeadBugle.com out of their warehouse location on Auburn Blvd. Tonette at one time was connected with Surjeet, the largest importer of Indian glass, silver and bone beads in the U.S. Sadly, Surjeet passed away several years ago. Her warehouse is located in a commercial strip mall and is stuffed with beads from India as well as Czech Republic. Her Ezine is fabulous, and read all over the world. A stop at her store would be well worth the effort to get off the freeway and explore her inventory and meet her and Bill in person. Mikey their dog would like it, too. Since we originally started to write this article, BeadBabe has closed due to the loss of our wonderful friend Bill. We will surely miss him.
BeadBabe - Bills Mowhawk - wow- dyed purple!
Going east from Sacramento up I-80 towards Reno you arrive in Auburn. This is a beautiful small city worthy of a weekend getaway in and of itself. So much to explore and see. Gypsy Wind is a bead store located in the Historic downtown, owned by Valerie. New owner, but the bead store has been there forever, but as of this writing the store has closed.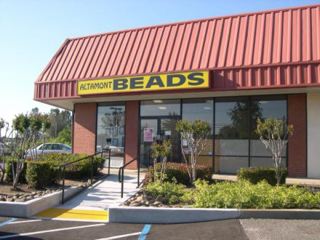 Across the freeway on Hwy 49 going north is Altamont Beads owned by John Zwickl and his wife, Janine. John is one of the hardest working bead store owners around. He displays at every single Gem Faire in the country, which keeps him on the road literally every weekend, yet he still makes time to stock his inventory for the store and his Gem Faire booth. His wife runs the store, and you used to see his daughter Kathleen, but she's all grown up and onto other things now. Their storefront has closed for a short time, but due to overwhelming requests by their loyal customers, John opened up his warehouse as the store so you can still shop from his inventory. John is a rockhound and takes every opportunity to dig up rocks while traveling to his next Gem Faire, and then goes one step further . . . he ships his rock to China where he has it cut into stone beads and cabs that are exclusive to him. Check him out.
Go further north on Hwy 49 and you come to Grass Valley and Nevada City. Here you will find Carol and Monty, dichroic glass suppliers and wonderful glass artists. Please note that you must make an appointment to see them and it will be worth it! Monty also teaches at a local college. You can find them at http://www.dichroicinc.com/
Grass Valley and Nevada City offer several bead stores to visit, as well as the quaint mountain town ambiance with crooked streets and salons from a bygone age. The buildings are of the false front 1800's goldmining town look, and the sidewalks are usually packed with tourists and local customers. The restaurants fill up quickly at lunchtime.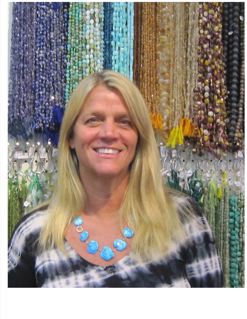 Grass Valley has a Ben Franklin Crafts that has a nice bead Boutique inside; a departure from the traditional craft store setting. Just down the road is Justine of Beads Galore, newly relocated to a wonderful storefront in the Safeway strip mall. Downtown Mill Street has two fabric stores with great selections of buttons, if that is what you are looking for.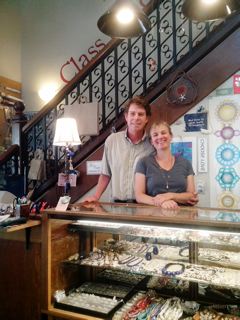 Justine of Beads Galore in Grass Valley, CA
Nevada City is just up the road, and there you will find Mana Beads, owned by Pam and Bob. They moved here from Hawaii, and the bead store they owned there is still there, but they brought all the charm and friendliness of the Islands with them to their store at the top of the hill on Broadway Street.
Pam and Bob of Mana Beads
in Nevada City, CA
Backtrack down from Nevada City and go west on Hwy 20 and you come to Browns Valley, passing through towns off the highway with names like Rough and Ready and Smartville. These were all goldmining towns from the days of the 49ers, coming up from San Francisco through Marysville on the way to Nevada City. The Empire Mine is up here off Hwy 20, and has a museum worth seeing. http://www.empiremine.org/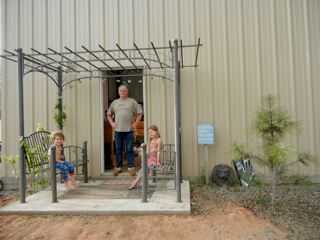 In Browns Valley you won't see anything but trees and more trees, because there really isn't a town to speak of, but with an appointment you could come see us at our warehouse.
Guy of Wild Things Beads at the warehouse in Browns Valley, CA
Wild Things Beads is located on our 6 acre property in a 1500 square foot warehouse stuffed with stone beads from China and India, freshwater and saltwater pearls from China, glass beads from Czech Republic, glass beads from Germany and evil eyes from Turkey, vintage crystal from Austria, wood and shell beads from the Philippines, and other things like baskets from Zimbabwe and ammonite fossil pendants from Madagascar. While we finish up your order, you can go fishing in our 1 acre pond for big mouth bass or perch. Our son Rob caught a huge catfish once but it was so big it broke his pole and got away. At least that is what he told me . . . I never saw it. The barbecue grill is always ready to be fired up and if your visit is taking longer than you planned, hamburgers can be made up in a flash, and there is always ice cold water in the fridge.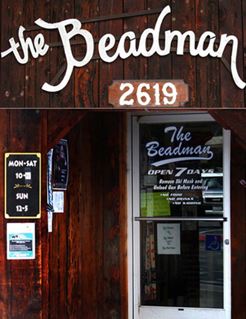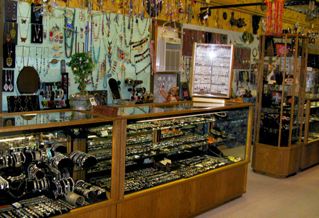 If you keep going west on Hwy 20 you will eventually meet up with I-5, and then the rest of Northern California is at your fingertips. Redding is just an hour north, with a fabulous bead store there, Aleta & Sandy of The Beadman. Beyond that, Lake Shasta and Mount Shasta. Wow! Some of the best country in the world. Are there bead stores up there? Don't know, you go find them. Report back.
The Beadman in Redding, CA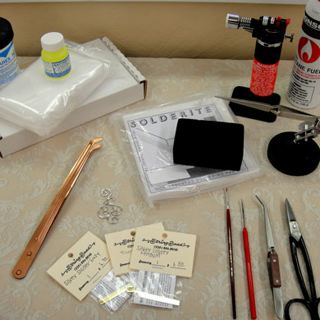 Off of Hwy 70/Hwy 99 is the town of Chico. Right in the middle between Marysville/Yuba City and Redding, Chico is a college town with a couple of nice bead stores. Carole is the owner of String Beads, and has a very happening store. She teaches lampwork bead making as well as lapidary instruction for cabochons and lost wax carving and silver metalsmithing. Take a class, stay a week. Paradise is just up the road, and Oroville. Explore the road less traveled.
Soldering Kit at String Beads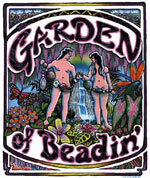 The Garden of Beadin' in Garberville, CA
North of the Bay Area if that is where you go to escape the masses, is Vacaville, Fairfield, Napa, Sonoma and Santa Rosa, Windsor, Eureka and Trinidad, to name a few towns with fabulous bead stores and wineries and beaches and scenic drives. Hwy 101 is a great road to get on and explore. Gosh, I'm getting excited just thinking about it. The Rennaisance Faire is up there, as is the best Reggae concert on the Eel River in August outside of Garberville, which, coincidentally, is the location of the original Garden of Beadin' owned by Charlotte. Charlotte is a master seed beader. Her store is a must. This is seed bead heaven.
Hwy 1 is fantastic. The lost Coast is north of there. Go get lost for a while, but don't forget to find Talisman in downtown Eureka. Go say hi to Merry, the owner. Heart Beads is also tucked away up there, where you will find some nice lampwork beads. So is the largest wholesaler of abalone shells, located in Trinidad. Need dentalium? They have it.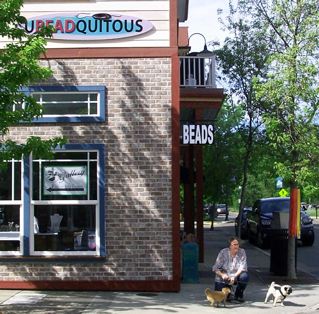 The list of towns and bead stores is almost endless. You could spend the rest of your life taking weekend trips up into northern California to explore all of this area, and probably still not see everything worth seeing. The Napa region is amazing. Take the wine train tour. Stop off at the Red Bead in downtown Napa and meet MaryAnn, the owner. She has a great bead store. Visit Alyx at Ubeadquitous in Windsor. Learn to pronounce it.
Alyx of Ubeadquitous in Windsor, CA
Sean and Becky of Out on a Whim are right there in Cotati with their fabulous seed bead and crystal selection. Drink some wine at any number of wineries in the region.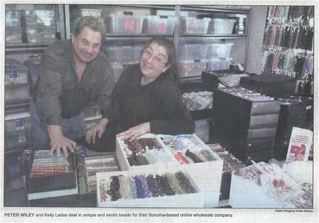 People from around the world come to Napa and Sonoma to tour the area, and it's in our own back yard. New to us is Beads in Pomegranate Seeds in Vallejo, run by the entire family which includes Deborah, Ray, daughter Tonya and Aunt Valerie. Old friends of ours from the bead show circuits, Peter and Kelly of San Francisco Arts and Crafts have their store in Sonoma.
Peter and Kelly of San Francisco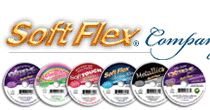 Arts and Crafts in Sonoma, CA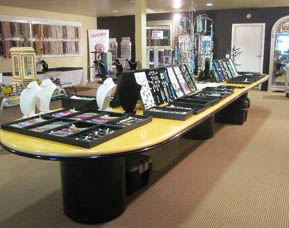 Not only bead stores, but bead warehouses and bead suppliers are nestled in this area.
SoftFlex Store in Sonoma, CA
SoftFlex Company is located in Sonoma, where they supply their famous beading wire.
One town over in Petaluma is Judy of Natural Touch, where you will an unlimited amount of colors in resin beads.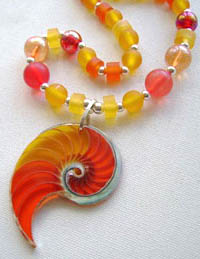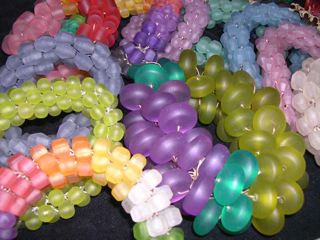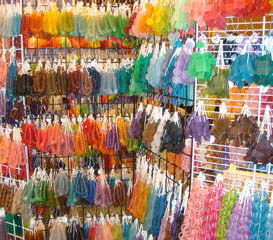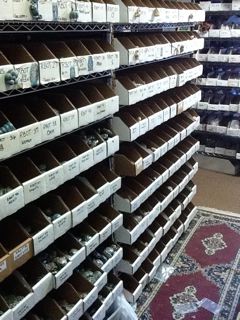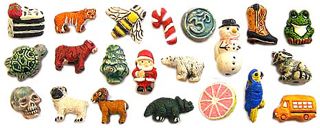 Nearby in Fulton you will find Jeff of JP Imported, a wholesale warehouse with many hand painted ceramic beads from Peru and a great fun guy as well. You must make an appointment to come by at his wholesale warehouse.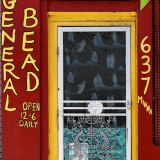 Even though this story is about the region of northern California outside of the Bay Area, San Francisco is part of Northern California, so a mention of some of the bead stores in the city is a must. Foremost on anyone's list has to be General Bead on Minna Street.
Beverley of General Bead
General Bead is owned by Beverly and Steven Sunshine, and has been in operation since the late 60's. It is a San Francisco institution. It should be a tourist attraction, it is that great. The store is well stocked, eclectic, the staff are knowledgeable, some are eccentric, OK, to be honest, they are all eccentric and fun. I think it's a hiring requirement. Absolutely worth the visit.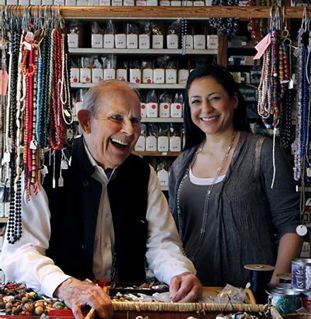 The other bead store worth visiting is Yone -- owned by Hermon and managed by Sandra, in North Beach, which is another old bead store that's been there forever. Yone is stuffed with beads on shelves, racks, in boxes, under counters, hanging from the ceilings, in every nook and cranny. You could be there for hours. This was one store on J-ME's list from her stomping ground when she was a teenager. This where she found a very special Chevron bead. She just loves this store!
Hermon and Sandra
Also in the Bay Area is the Bead Society of Northern California. They focus on educational history of beads. Monthly meetings are held every third Tuesday at 7Pm at The Courtyard Marriott, 5555 Shellmound in Emeryville, CA. They put on a Bead Bazaar once a year in the spring, where vendors come from all over different parts of California to sell their wares. Another good event that occurs every November is the BABE show. That stands for Bay Area Bead Extravaganza. You don't want to miss this one!
I've only just touched on the gems of this region. The list could go on forever. Your job is to go out and find them for yourself, and tell other people what you found so they can go out and do the same. There are roses out there . . . go and smell them. Or is it coffee? I don't know, I get confused. Imagine if a Bead could Talk and have some fun. Go make your own stories . . .
All Rights Reserved ~ Copyright April 2013
This article cannot be reproduced in part or full without the written permission of Wild Things Beads.
~~~~~~~~~~~~~~~~~~~~~~~~~~~~~~~~~~~~~~~~~~~~~~~~~~~~~~~~~~~~~
J-Me and Guy are the owners of Wild Things Beads, a small family run import business specializing in Czech glass beads and buttons. They also run working bead tours to Jablonec and Hong Kong. Their warehouse is located deep in the Sierra Nevada foothills of Northern California, and can be reached by phone at (530)743 1339 or on the web at www.wildthingsbeads.com. They are also open by appointment at their warehouse.