Charlotte Cut Seed Beads
5/31/05 – updated 10/13/06
Charlotte cut seed beads are the Cadillac of seed beads, the one cut facet making them sparkle and shimmer. Considering how popular they are, they are very hard to get in any form of consistency, and beaders who know, buy them whenever they can, and keep their sources secret.
According to Peter Francis, Jr. Charlotte cuts were first used in 1847 in France, for the garment trade. Although Peter doesn't know the origins of the name, in a recent letter to Bead and Button magazine by Elliot Greene of New York, Elliot states the name was attributed to his daughter. Elliot Green is an importer of Czech glass beads, and one of only a small handful of importers of charlotte cut seed beads.
Although seed beads have been made for centuries, in Venice, Italy, Lyon, France, and Gablonz, Bohemia; according to Peter Francis, Jr., the beads were made in Venice and Lyon, then sent to Bohemia for faceting. There might not be any way to verify this fact now, as Peter died in 2003. Seed beads are no longer made in Italy, and the last bead factory that produced seed beads in France closed in 2004. The only European seed bead manufacturer now in existence is in the Czech Republic. The factory is Ornela, located outside of Jablonec nad Nisou, where most of the Czech glass bead industry is located. Ornela is the world's largest seed bead factory, and makes all the Czech charlotte cut seed beads that are available today. Having said that, charlottes are almost impossible to get, and most bead stores are always in short supply, as are the few importers who carry them. Why this is the case is a mystery, because charlottes are very popular.
Charlottes were originally only made in size 13/0, but then 11/0 were made, and now charlottes are available in 15/0, 8/0 and 6/0.
Because technically only 13/0 are charlottes, all the rest, (11/0, 15/0, 8/0 and 6/0) are called one cuts or true cuts. But if you are not a purist…then charlottes are really what they are called.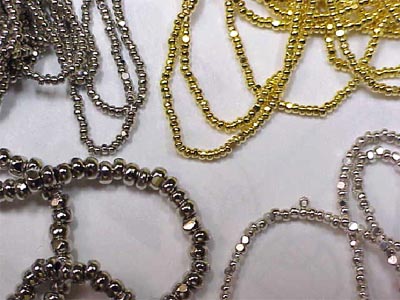 Charlottes are made in many colors of glass, and some are made with different lusters and coatings. Some of the most desirable charlottes on the market today are the precious metal charlottes such as 24 kt gold, sterling silver, copper and marcasite. However, buyers should beware that there are two varieties of the precious metal charlottes – the painted (galvanized) seed beads and the baked on ones. The painted charlottes are much less expensive than the baked on ones, are not as bright, and the color comes off almost immediately upon contact, leaving the core base of crystal or alabaster showing through. Needless to say, this will ruin a project you would be doing. The baked on charlottes are quite a lot more expensive, but the coating will last much longer, if not indefinitely. Some beaders have reported that the coating will come off where repeated contact with other beads or metal findings rubs against the charlotte cut. Also, wearing your jewelry with these coated charlottes in the hot tub or pool will cause the coating to fade. But if you treat your beads with care, they will last a long time.
As already mentioned, Elliot Greene of New York is one importer of Charlotte cuts, but only carries 13/0. Other importers are: York Novelties of New York, who carries 13/0, 15/0 (but only loose), 11/0 and 8/0, Shipwreck Beads of Washington, who carries 13/0, Buy-Lines of Los Angeles, who carries 13/0, John Bead of Canada, who only carries a small amount of 13/0, and Wild Things Beads of Penn Valley, California. We carry 15/0, 13/0, 11/0, 8/0 and 6/0, depending on supply from the factory.
We (Wild Things Beads) specialize in the more exotic colors and coatings, such as the 24 kt gold, sterling silver and marcasite. We also carry exotics such as metallic chocolate bronze, green with a bronze luster, amethyst with a bronze luster, cobalt blue with a bronze luster. These coatings look bronze when you hold them down, but when you hold them up to the light they become transparent green, purple, or blue. These charlottes are fantastic for earrings, or lampshades, wherever light will shine through. J-ME calls them her Magic colors.
The reason we specialize in exotic coatings is because of the monopoly Ornela has over the seed bead manufacture. Only the old importers can buy seed beads from Ornela, and Ornela has a list per country that is allowed to carry their line of seed beads. Which means charlotte cuts are also only allowed to be purchased by these importers. Not even Czech agents can purchase seed beads for resale to their customers, only for manufacture in a line of jewelry. If Ornela found out a Czech agent was buying seed beads under the pretense of designing a line of jewelry and then sold the seed beads to the customer for export, Ornela would never sell beads to that agent ever again. The agent we use to obtain our charlottes is able to purchase small quantities of the base seed bead or faceted charlotte cut, and because he is coating it, Ornela recognizes that as manufacture of a line of jewelry, and allows him to continue buying seed beads. So for the last 8 years we at Wild Things Beads have been importing Charlotte cut seed beads on a regular basis, but in small quantities of 5 kilos, sometimes 25 kilos of a certain color or coating, occasionally larger quantities like 50 kilos if we are lucky.
J-Me, the owner of Wild Things Beads, loves charlottes, and she originally began importing the precious metal charlottes back in the early 1990's from Jerry Starman of G. Jwu Wa Bohemia, when she asked him if he could have size 13/0 charlottes made in gold. Jerry knew nothing about seed beads, but was willing to look into it. He also came up against the Ornela brick wall, and had to start a plating company, M.I.C., to buy base crystal charlottes, plate and bake them, before being able to offer them for export to us. They were offered to us in ½ kilo bundles, with hanks of 12 strands approximately 12 inches long. This arrangement continued for several years before the plating expert at M.I.C. left the company and the process went with him. The company closed, and the precious metal charlottes stopped being produced.

Happily for us at Wild Things Beads, and to charlotte lovers everywhere, an employee at the M.I.C. factory contacted our agent in the Czech Republic and offered to continue making precious metal charlottes exclusively for us. In reality, that meant we would have to buy everything he produced, to remain exclusive. We found that out the hard way, when we turned down a shipment of 15/0 gold that we thought was too expensive, and they were offered to another importer who snapped them up. However, we now were able to offer input to have sizes 6/0 and 8/0 in gold and marcasite produced for us. Due to the rising cost of the charlottes being offered to us, we requested that the bundle be reduced to ¼ kilos, with hanks of 12 strands being 10 inches long. This reduced the initial cost our customers had to pay when placing orders. We also developed a cigar band to wrap around the bundle with our logo on it so customers would be able to identify the charlottes as being of high quality baked on precious metal.
Now for some bad news – in December, 2004, our agent informed us that the plating expert left the factory he had founded in his garage, for undisclosed reasons, but probably a woman or taxes, he wasn't sure, and there were no more precious metal charlottes coming. Needless to say, we were devastated. Our agent still has access to the base charlottes, but does not know anyone who can do the coating. According to him there is a secret step involved in the plating process, which makes our charlottes so special, because they don't peel or rub off.
We immediately began scrambling for another source, and hopefully we have found another plating expert who can continue making our charlottes for us. Unfortunately, he has no contacts to get the base crystal or alabaster seed beads, and our agent won't deal with this plating expert, so this arrangement is shaky at best. Currently, we are expecting approximately 5 kilos of gold charlottes, but the prices are going to be much higher, as his stash of charlottes is harder to buy, and cost more.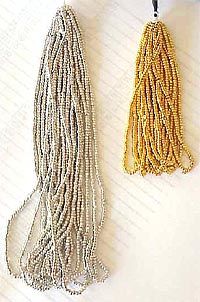 One way we plan on reducing the impact of the anticipated price increase is to bundle the beads in 1/8 kilo instead of ¼ kilo, and make the hanks 5 inches long instead of 10 inches now. Basically we will be following what the French did with steel cuts one hundred years ago.
Comparison of old 10" hanks to new 5" hanks.
In response to the need for charlottes, Japan has entered the market as well, with Toho offering 12/0 and 15/0 charlottes. Unfortunately, they are only available loose.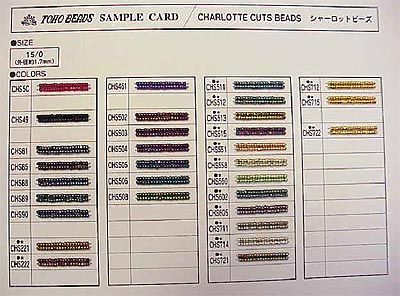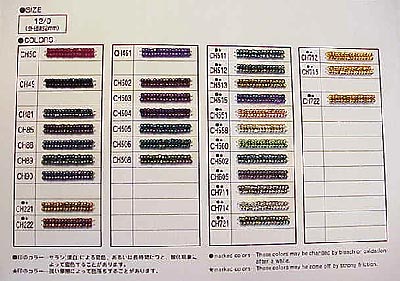 In a recent comparison of Toho charlottes and Czech charlottes, the Japanese charlottes are not the same size. The Toho are larger. (Size 15/0 are really a 14/0).
As of July 3, 2005, the first shipment of 11/0 gold and silver charlottes arrived in our warehouse, along with 13/0 gold, in the 1/8 kilo bundles. There are approximately 19 hanks in the 13/0 bundles, and 11 hanks in the 11/0 bundles. The quality is exactly the same. It all depends now on if we can secure a steady supply of base charlottes with which to coat them in precious metal. J-Me and Guy will be making a special trip to Jablonec in August with this goal in mind.
Some of the ways our charlottes are used.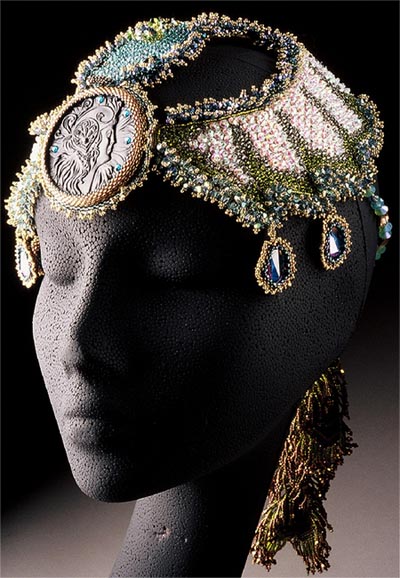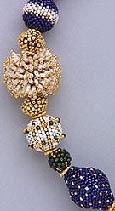 Sharri Moroshak of Sun and Moon Studio's uses our charlottes to make her wonderful beaded beads.
Laura McCabe of "Just Let Me Bead" Studios created this stunning headdress using charlottes.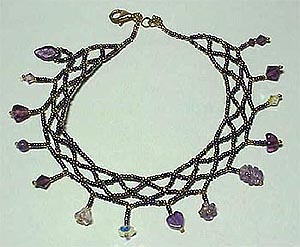 J-Me Lynn of Wild Things Beads has been creating this fancy anklet for over 35 years with various types of charlottes.
As of October 2005, we are currently in production of 13/0, 15/0 and 8/0 charlottes in the Czech Republic. Production could take several months, and we are hoping to have some supplies by February for the Tucson show.
As of October 2006, the precious metal charlotte market has really heated up, with several new players offering these metal charlottes for sale. One medium sized factory in the Czech Republic now offers charlotte cut seed beads in base alabaster, black or crystal, and a large coating factory has the ability to coat the charlottes in the different metals, and then bake it on permanently. These are the beads we offer to our customers, as they are the quality we have always provided. The so-called galvanized, or painted on beads are still available, but you can usually tell the difference, not the least indication by the price being asked for them. They are much cheaper in comparison to the baked on charlottes offered by us here at Wild Things Beads. Another thing you should be aware of is the temporary protection being placed on the painted beads by spraying polyurethane on the metal coating to prevent the paint from peeling off. This will work for about six months, and then the paint will start peeling again.
15/0 precious metal charlottes are the current rage right now, fueled by Laura McCabe's outrageously fantastic and intricate bead work and classes, and other talented seed bead artists like Sharri Moroshak and Sherry Serafini , all of whom use our charlottes in their work.
Just when we thought we had beaten the production problems in the Czech Republic, along came another one which set us and every other importer of the 15/0 charlottes back to square one in supplying these much sought after beads – the stringing of these by the women in the villages around Jablonec. It took us over a year to get the production straightened out, and then the beads sat for over another eight months while our agent worked on the stringing problem. She found people to do it, then they stopped because the beads were too small. She found another group to go on, but they stopped because the needles kept breaking, because the beads were too small. We refused them loose, because for the most part our customers require them strung, for resale. Finally we found a group that could do the job with extra fine needles from an antique stash we uncovered in an antique warehouse outside of Jablonec. We now have silver and marcasite 15/0 charlottes available for sale, and within a month will have gold 15/0 all strung into mini hanks in 1/8 kilo bundles.
In our quest to find a steady, reliable source of precious metal charlotte cut seed beads to bring to market for our customers, we have hopefully succeeded in that endeavor, and can provide these beads for years to come. Enjoy!
Wholesale customers can visit the warehouse by appointment. We are located deep in the Sierra Nevada mountains of Northern California.