The German-Czech Bead Industry
The German bead industry is still alive, but only just. It is based out of southern Germany, in the Bavarian city of Neu Gablonz, named, of course, after Gablonz, the Bohemian city which was the capital of the Austrian bead industry during the Austrian Empire, and later Czechoslovakia, when the name was changed to Jablonec nad Nisou. The local chamber of commerce dates Jablonec back to 1356 when it was first mentioned in documents, but permanent settlement only occurred in the 16th century when a glass works was established in Mseno, which is now incorporated inside the city limits of Jablonec.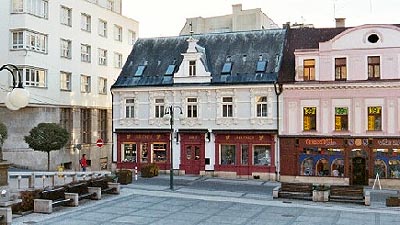 One of the squares in the center of Jablonec.
How this all came to be starts way back in the 12th century when early documents record German glass makers from the Rhineland being invited to settle in the area of the Austrian-Hungarian Empire known as Bohemia. This was a relatively unsettled province with large forests and rivers, and sand useful for glass making. The earliest known glass factory is outside of present day Jablonec. It is of course just a ruin, but a museum stands on its site. In the Jizera Mountains outside of Jablonec at Vysoka are the ruins of another glass works, Sklenavice, which date back to the 14th century.
By the 1700's, chandeliers were being produced in Jablonec, as were glass stones for the jewelry trade. The first recorded showing at a trade show in Prague of pressed glass beads was in 1829. By 1850, glass beads were being produced by the millions, and exported all over the world. The owners of these bead factories were the German glassmakers, who had invented the costume jewelry industry, and had made a name for themselves as the finest Austrian crystal glass producers in the world. Swarovski is one name brand that comes to mind.
The 1930's saw a decline, then a halt in the manufacture of glass beads, as events leading up to World War Two overtook the need for beads, and manufacture of ammunition and weapons became all important, and all resources of raw materials and people was used to this end. Not many beads were made during this time.
At the end of the war, 1946, the Germans, known as the Suduten Deutsch, as Germany had called that region of Bohemia Sudutenland during their occupation of the area during the war, were expelled from Czechoslovakia. They were given 48 hours to leave, usually with just one suitcase of belongings. They had to leave behind everything else they owned; their houses, their furniture, their businesses. The Czech workers who were employed by them were able to take over the factories, and keep them running. Whole Czech families moved into German houses, filled with furniture and chinaware, silverware and linens. The German refugees streamed into war torn Germany, and most of the bead makers ultimately settled in Bavaria, near the town of Kaufburen. In all, five towns were settled by bead makers; Lauscha being one, as was Neu Gablonz, Austria. Bayruth was another town. Another was Quedlinburg in the Harz Mountains.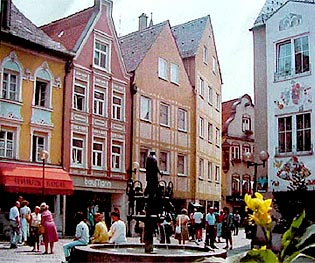 Efforts were made to keep all the bead makers together, so the bead industry would survive, and a bombed out ammunitions factory outside of Kaufburen was purchased for this purpose. The town was named Neu Gablonz. Kaufburen/Neu Gablonz is about an hours drive south of Munich on the way to Austria.

One of the town squares in Kaufburen.

By 1947, over 2000 bead makers had settled in Neu Gablonz, and started producing beads. Resources were so scarce, clay and bubblegum were used as molds to create bead shapes. Some of the bead makers did bring their molds with them, and of course some of the refugees were mold makers.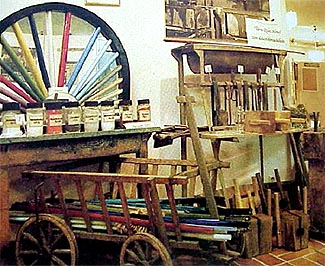 Today, these early beginnings are documented in the bead museum in Neu Gablonz, which is located at the Gablonzer Industries building and conference center.
Gablonzer Industries museum.
Sadly, although the bead industry is still alive, it is shrinking. There are less than 400 factories still producing glass beads, and most of these are small, family run operations, where the owners are older, and the children are showing no interest in continuing the business. Most of the glass beads being produced are for internal consumption by the factories themselves, who make finished jewelry for sale to the European market. Very few are willing to sell just the raw component beads.
One such family is the Blaschke 's. When we first met them, they invited us in to their house, where they had a sales room to show off their lampwork beads. Along one wall was a show case of beautiful beads. When asked if any were for sale, they replied no, they were beads made by all the previous generations of Blaschke's that came before, their father, and his father's, both who had been in Gablonz. When they were young adults in 1946 they had been kicked out of Czechoslovakia, and had taken these beads with them as examples of the beads to continue making once they were settled in Neu Gablonz. We then asked if they could make beads just like the museum beads in their display case, and they said they could. We began our relationship with them by ordering their new production beads, and by commissioning them to remake new beads based on their grandparents designs. The next year when we went back for more, they allowed us to dig through a file cabinet in the back room that had job lots of old vintage lampwork dating from their great grandparents, grandparents, and their parents. While we were digging, we came across the job lots of the current Blaschke production, where he was continuing the tradition of filling up the filing cabinet drawers with over production beads. It felt good to see history happening right in front of us.
One sad thing about the Blaschke's, which is mirroring all the German bead makers, is that they are the last generation to make beads. Their daughter is the book keeper for their business, but does not make beads, nor has she shown any interest in making beads. Their style of lampwork beads will die with this generation.
The Blaschke's brother has a building next door where he manufactures plastic beads using injection molds.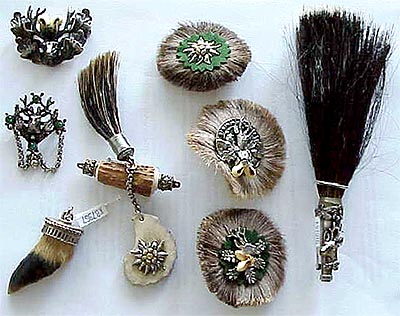 Another family whom we met and purchase buttons from are the Schnabels. The Artur Schnabel Co. manufactures traditional Bavarian accessories using metal parts and eidelweiss flowers from the region. They were originally from Gablonz, and had to leave at the end of the war with all the other German refugees.

A sample of the products of the
Artur Schnabel Co.
One interesting side note about the bead making community of Neu Gablonz and the town of Kaufburen, which is right next to it, at least from a non german standpoint, such as myself, is that at first blush they are all Germans. But this is not so. The inhabitants of Kaufburen have been there for centuries, and in fact are a mixture of German and Italian, because of all the shifting of national borders over the centuries due to wars, etc…, (an example being the family who owns the beautiful bed and breakfast Inn we stay at, built right into the medieval wall of the town, the Lombardini's.) whereas the inhabitants of Neu Gablonz are Sudeten German, which are foreign born Germans who have been living in Bohemia under Austian rule since 12th century, then Nazi German rule during the war, before settling in Neu Gablonz in 1946/47. They are foreigners to the area, and there is a lot of conflict and turmoil going on between the two communities.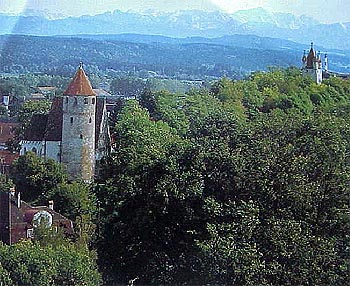 View of the town of Kaufburen and the Tower
where the hotel Am Turm is located.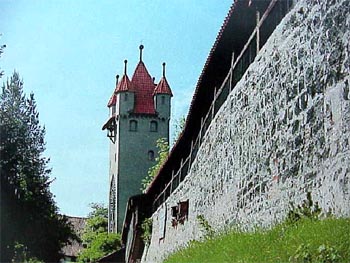 Another view of the wall that surrounds Kaufburen.
The last time we met with the Blaschke's they took us to dinner, and told us a little about their experiences in going back to Jablonec for the first time in 1990, after the wall came down following the Velvet revolution in 1989.
They had been given 48 hours to leave Czechoslovakia, with just suitcases of belongings, and consequently had to abandon their house and all its contents. In 1990, they were able to go back for a visit, which they did, and when they walked up to their house they had lived in, they noticed it was in a ruinous state, plaster crumbling off the walls, window panes cracked and broken, unpainted, just in terrible neglect. They knocked on the door, and an old Czech peasant lady open it, and after explaining who they were, and why they were there, she invited them in for tea. They sat in their original furniture, drank tea from their old china, and on the walls were their oil paintings and decorations that they had been forced to leave behind. They were just amazed, but quite happy to leave the house knowing the Czech lady had looked after everything. They have gone back every year since, and have become friends with the current occupant.
In America, there are only a handful of importers who offer German beads for sale. We are one such importer. Where ever possible, we try to use old glass made in the 1940's, and of course old molds. On one trip, we found a stash of old German milk glass, dating from the 1930's, which is a milky, opaline white, and had fire polish beads made from it.
Another recent development because of the decline in the German bead industry is the export to India of entire factories from Germany – the molds, the machinery, and technicians to train the Indian workers how to use the equipment. The only deviation is that the Indians are still using Indian made glass, which differentiates their beads from the original German.
One warning to unaware customers of German beads, is that we have found that some German factories purchase Czech beads and resell them as German beads. The most common example of this practice is fire polish facetted beads.
Although glass bead making is a large portion of the trade in Neu Gablonz, they also make plastic beads, buttons, crystal, metal beads and findings, and side industries such as metallic coatings, vacuum press technology, and faceting. Labor is expensive in Germany, and the beads are all packaged loose. Stringing in masses like the Czechs do is not feasible.
Although it is extremely hard to get in with a German bead factory, it is not impossible. The first place to go to would be the Gablonzer Industries center, in Neu Gablonz. They can also be found on the web at www.gablonzerindustries.com . The center houses a museum, and map of the exodus of bead makers from Jablonec in 1946 to the different cities in Europe that they settled in and started up business again. The center also has a gift shop which offers for sale finished jewelry made from the beads manufactured in Neu Gablonz. One reason that it is so hard to buy from these factories is that they are cottage industries, and the family business is making beads, not exporting. So in most cases you would have to find an exporter who is familiar with different bead makers, and who would be willing to work with you. Unfortunately, most export agents in Kaufburen are already affiliated with a large importer, such as John Allen, or Alvee Rosenberg, and by using them you would not be buying direct, but be buying through them.
Another good resource to find beads in Kaufburen/Neu Gablonz would be antique shops. Children who have no interest in continuing the family business are unloading the beads, tools, molds and sample cards from their parents attics and basements into antique shops and flea markets all the time.
Finally, if you have no luck hooking up with a factory in Neu Gablonz, nor any luck finding beads in antique shops or flea markets around town, then your very best shot at finding German beads would be in Paris. And that is worthy of a whole other article.
Good luck and happy hunting!