Glass Lei's of Maui
In March 2006 we went to Hawaii for Lewis Wilson's spring "Best Bead Show" held in the Ward Warehouse in Honolulu, Oahu. It was a three day show, his second annual. Bead stores and designers from all over the islands attended in droves, and was a success by all means of judging. Sales were good, attendance was good, contacts were made and remade, and fun was had by all. After all, it is Hawaii.
After the show, we did trunk shows at several bead stores on three islands, again all well attended by retail customers loyal to their favorite bead stores. We noticed that flowers and leaves were among the most popular beads sought after by beaders, and lei were being made and worn by everyone. Real flowers and leaves were used in some lei, glass beads and shells in others. Lei are just an intregal part of life in Hawaii, not just for tourists to wear, but locals too. While on the island of Maui, at a trunk show hosted by one of the bead stores, we met a wonderful artist who came into the store to attend the show, and was wearing one of his handmade lei. His name was Stefan, and here is his story.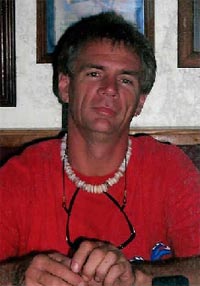 Stefan was a ward of the court since age two, and with the obviously hard life that that entailed, he escaped the L.A. area and arrived on Maui in 2001, a crack addict desperate to change his life. Walking the beach, Stefan decided he wanted to help clean up the environment and save the life of animals affected by the damage done to it by humans, as a means of also cleaning and saving his life from the damage done to himself by his lifestyle of drugs and addictions. He began cleaning up the beaches, and in the process began finding puka shells and sea urchins and sand worn bottle glass that could be made into jewelry.
Stefan spends hours choosing each piece to incorporate into his designs, drilling and polishing each piece, matching and graduating the individual shells and stones to be just right for the finished piece he creates.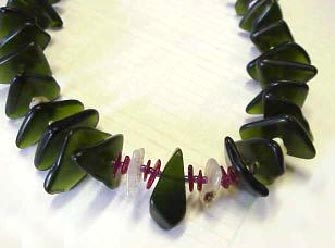 After three years being sober from crack cocaine, Stefan celebrated by cracking open a bottle of champagne and sharing his success with his partner and co-sponsor Cheryl. He then broke up the bottle and tumbled it smooth, drilling holes in each piece to make them into beads, and created his first bottle glass lei.
He separates the glass beads with small shell beads which he hand drills, and also uses Maui diamonds, which are a type of quartz crystal with a yellow fire smoldering inside like opal. These stones are only found on two beaches on Maui.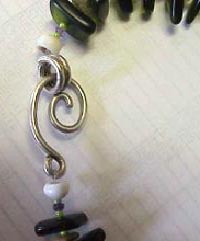 Stefan creates his own unique sterling silver clasps on his lei, using 12-gauge wire. Held one way, it is the Maui fish hook, turn it the other way and it is a cresting wave. It is also the spiral of life, a universal sign. The clasp is attached in a unique way, the ring being slipped over the spiral center in a certain way, and each time a prayer to Aina is given as the clasp is joined.
For Stefan, his lei carry a deeply spiritual meaning. He hopes every one who comes into possession of one of his lei's will feel the same way.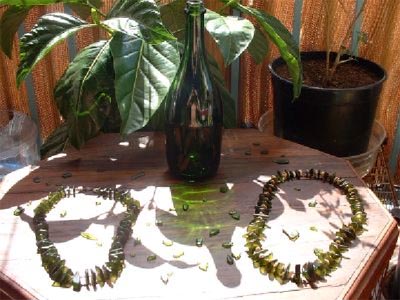 Stefan calls these lei's "Time in a bottle", as each lei will be made from a bottle used by the wearer in celebration of some moment in their life that gave them meaning, and by wanting to capture that moment forever in these lei that can be worn; displayed on a wall as a monument to that memory, and handed down as a family heirloom to their next of kin.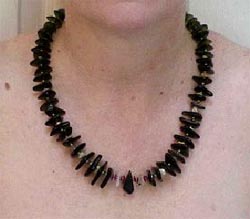 Stefan can be contacted by mail at POBox 959, pmb 426, Kihei, Hi. 96753, by phone at (808)870 3941, on the web at mauimcgyver@hotmail.com or stefan@mauimcgyver.com
At the time of this article, Stefan was approached by a major craft store chain to be profiled as their Artist of the Month.