Southern California Shop Hop - 2013
When the Great Recession of 2007 started, the Real Estate market collapsed, Wall Street collapsed, people lost their jobs, their savings, their houses, and things started to get tough. In the bead world, stores closed, shrank in size, shrank from three or two store chains down to one store and stopped buying in large quantities, all in an effort to stay afloat. At the same time, trade shows increased in number all over the country and the Internet began taking an increased amount of market share from brick and mortar bead stores, as stores moved online to save costs. Every year, people were hoping things would improve. But things just seemed to be getting worse. More stores closed. What was a person to do?
Well, what Scott and Wendy of Brea Bead Works did was help organize the Southern California Local Bead Store Association; an organization of bead stores who share ideas and advertising as a collective group in an effort to stay in business during these tough times. All the stores worked together to set up this new organization.
They then came up with the idea of the Southern California Bead Shop Hop.
Back in 2010 the first Bead Hop was organized with the help of a lady who approached Scott with the idea taken from a yarn hop along the same lines as the bead hop. It ended up a dismal failure, but Scott saw the value and helped organize all the stores who had participated in it and formed the Local Bead Association for the purpose of continuing the bead hop into the future but this time with better ideas and support from the entire group. A management team was organized to share the work load, with committees to plan the following years hop. One purpose of the bead hop was to create excitement within the beading community, introduce more bead stores to more customers around Southern California, and generate/boost sales in a stagnant economy.

2011 was the first Southern California Local Bead Store Association Bead Shop Hop -- and it was a huge success! 25 bead stores from San Diego to Lancaster and Ventura to Palm Springs participated. The association committee produced a map with all the stores listed, directions and phone numbers included and people were signed up with passports to be stamped and charms to be collected from every store. Some stores arranged to have concurring trunk shows at their store during the hop to increase the excitement for the hopping customers, along with snacks and drinks for when the customers arrived. The first Bead Shop Hop of 2011 was only two weekends long, and we at Wild Things Beads were proud to be included as the trunk show at Brea Bead Works. It turned out to be one of our best trunk shows ever as well as for Scott and Wendy.
2012 rolled around for another brutal year of the Great Recession and the second annual Bead Shop Hop of the Southern California Local Bead Shop Association. This year they organized three consecutive weekends for the hop with 27 bead stores participating. Another great success, with more trunk shows by more vendors at more stores with more customers than last year. Things were starting to snowball for the Bead Hop. For us at Wild Things Beads, we expanded our involvement by doing the first weekend's trunk show at Creative Castle in Newbury Park, followed by Brea Bead Works the second weekend, and ending up in Arcadia at San Gabriel Bead Company for the third and last weekend. And every weekend (Friday, Saturday and Sunday) was hugely successful for everyone. Customers would come in so excited about the upcoming weekend. Some only shopped at the one store nearest to them and didn't know about the bead hop. But seeing all the action and excitement, they soon signed up and began participating. Others had already signed up because of last year, and they were carpooling with two or three friends and were bombing around the L.A. basin and surrounding area trying to see every store in the bead hop. They would plan their weekend like a military campaign, with their maps laid out and stores circled. The motel reserved for Friday and Saturday night, the husbands bachelors for the weekend.
By the end of the hop customers were already planning ahead for the next year.
2013 -- and this years Bead Shop Hop.
The theme for the hop is Destinations -- and for us at Wild Things Beads doing the first weekend of the hop (September 6, 7 and 8th) at San Gabriel Bead Company the theme was Christmas at the North Pole. All the employees wore reindeer antlers and Kelly the owner made a signpost for the front door of all the stores participating with the miles of travel to their location. Santa Claus was riding his sleigh somewhere around the store.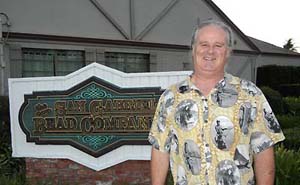 Broken up into three regions, region one being Ventura and Los Angeles county, with six stores; region two being Orange, San Bernardino and Riverside county with eight stores; and region three Riverside and San Diego county with eight stores, all three weekends are needed to hit all stores.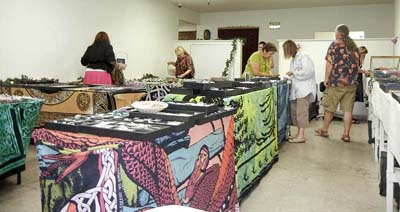 When you sign up at the first store you visit that participates in the Shop Hop, you are given a map of all stores, with directions, and a passport. Also, water and snacks to sustain you on your travels. Really, all you need to bring is your excitement, energy, creativity and maybe a little cash. OK, lets get serious . . . start saving now for next year. You'll need a lot of cash! (22 stores in 9 days, and all different.)

To create excitement, prizes are offered to hoppers who visit all stores in each region, as well as a grand prize for visiting all stores in all three regions. A bracelet and charm start off your first store visited, and each subsequent store gets you another, different charm to add to your bracelet. The best part? It is FREE to participate in the bead hop.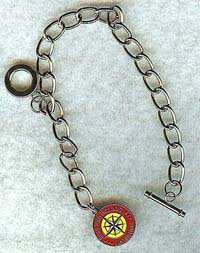 J-Me loved the idea of the collectible charm bracelet from last years Bead Hop, so this year at San Gabriel Bead Company, J-Me bought a Tin Soldier charm and two Ginger Bread Cookie charms. She also received the official store charm, which was a candy cane. With four days before the next trunk show at Brea Bead Works, we will be going to some of the other participating bead stores to make sales calls and to pick up their themed charms to add to J-Me's bracelet.
All the participating bead stores close to us were closed on Monday, so it wasn't until Tuesday that we made a call to Beadahs of Santa Monica. Fighting the L.A. freeway traffic, it took us 1-1/2 hours to go 37 miles. But once we arrived, everything was good. Ermie and Shannon, the owners of Beadahs, were old friends of ours, having traveled around the Philippines with Ermie a couple of years back. Parking on the street is impossible, but there was a large parking structure next door with the first 90 minutes free. Their destinations theme for the hop was Thailand. Although the Shop Hop only runs on Friday, Saturday and Sunday, J-Me was able to pick up her charm for the bracelet. (A Thai Elephant). So she was happy. I got to hump tubs of beads up and down the elevator. The good thing for me? The temperature was 74 degrees! (When we arrived in Arcadia we brought the heat wave with us and it had been 107 to 105 degrees all week).

Wednesday we visited Bead it in Chino. Janet, the owner, was still recovering from the weekend of bead hopping madness. She told us it is probably her best month for sales. Her theme was Tahiti, and the store had posters and tropical flower leis everywhere. Being a small store with not much room, Janet did not host a trunk show, but instead had a make and take table with project ideas and tools laid out for customers to choose from. Her charm was a shell with a pearl inset, and of course J-Me had to have one to add to the bracelet.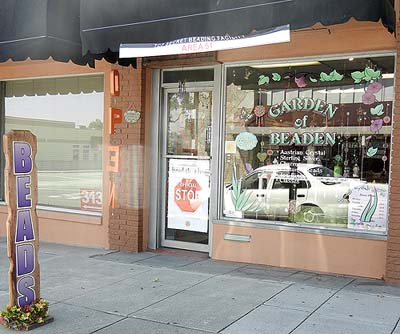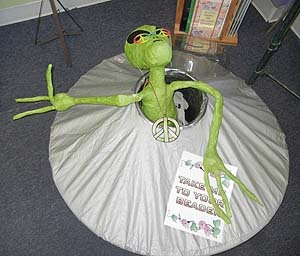 We then jumped back on the freeway and made it to Garden of Beaden in Upland before the rush hour traffic started to clog up the roads, and found Irene still bubbling over with energy and excitement from the weekend. She had several customers taking classes, and her Alien props were still scattered all over the store ready for next weekend.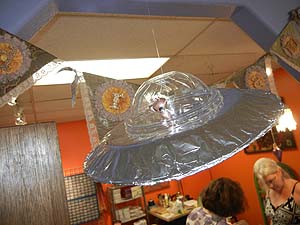 Her destination theme was Roswell, and in collaboration with husband and son had created UFO's and alien life forms to hang all over the store. Although she had run out of alien charms for the bracelet, Irene gave up her store sample for J-Me to add to her collection. More would be arriving before the start of week two on Friday. Thanks Irene.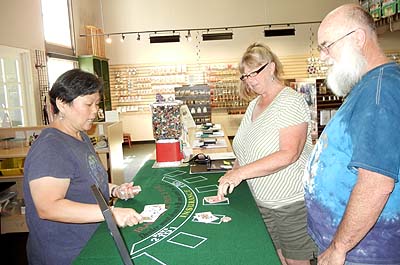 Friday morning of the second week had us in Brea Bead Works. We had taken over the lobby with our trunk show, and the rest of the store was displayed in their destination theme of Las Vegas. Pictures of slot machines were all over, and Scott had set up a black Jack table with cards and poker chips. All hoppers got to play a hand, and if they won they got a prize.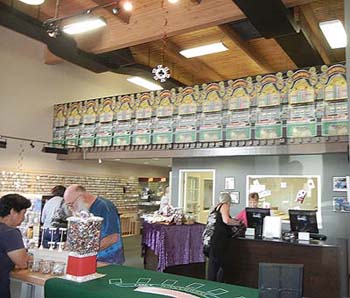 Talking to Wendy and Scott, they live the idea of shopping local. Not just shopping local bead stores, which is what the association and the bead shop hop is all about, but in organizing the shop hop they use local companies to order their supplies. For example, the passport and all 22 labels that are used by each store to log their participation by each hopper was printed by a local small business printer down the street. The charms made specifically for the 2013 bead hop came from a charm company local to neighboring Hollywood. By following their own ideals, Scott and Wendy are making a difference to many other small businesses in Southern California. By shopping local, small businesses will stay in business, and the money will stay local as well.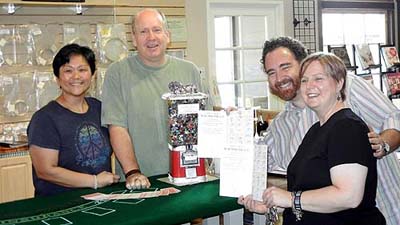 The fun continues - The first husband and wife team came in during the hop to register for the grand prize drawing while we were at Brea Bead Works. They had completed all 22 store visits. This was their third attempt to win the grand prize, having visited every store during each bead shop hop since 2011.
According to Scott, two other hoppers had registered for the grand prize down in the San Diego region the same weekend.
J-Me, of course, picked up her charm first thing, and attached it to her growing bracelet. Being Las Vegas, the charm was a slot machine.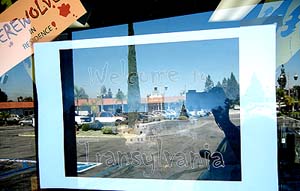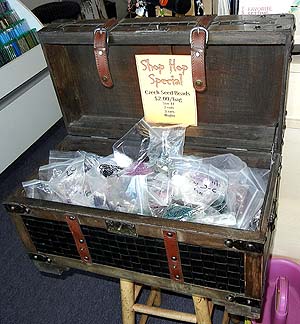 Monday after the second weekend of the hop, saw us in Lake Forest at Jill's bead store, Bead Station. Her theme was Transylvania, so of course there were coffins and vampires everywhere.
J-Me picked up the store's charm for her growing collection -- a flying bat. And J-Me had to get one of the charms that is a pewter coffin, which opened to display a skeleton. Jill's huge German Shepard also entered into the spirit of the occasion by wearing a spiked collar. Jill was thrilled by this year's attendance for the bead shop hop, and was glad to be a part of it, even though she was exhausted. (But then, maybe it had something to do with being in the process of relocating her store to a new location five miles away! during the hop). Don't worry Jill, there's only one more weekend of the bead hop to go. Then you can sleep like the dead. Get it? Dead, Transylvania, coffins? OK, moving on . . .
Wednesday saw us visiting Beadiak in Agoura Hills, one of the oldest bead stores around. It is situated in a strip mall of antique stores, and those stores were loaded with wonderful antiques. Beadiak had a lot of vintage beads and African trade beads, as well as a large assortment of just very interesting beads. Ann, the owner of Beadiak was not there today, so J-Me did not ask to get the bead hop charm to add to her bracelet, which was the continent of Africa. There were silhouette cut outs of African animals all over the store, and the trunk show going on for the hop was African trade beads.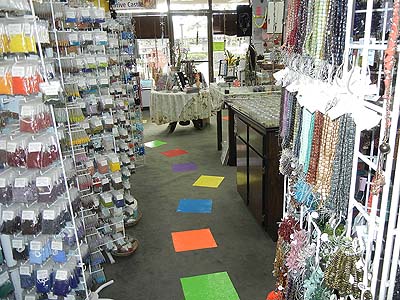 Thursday we set up for our last bead hop trunk show at Creative Castle in Newbury Park, Ventura County. Carole was there to greet us, along with her staff, who couldn't wait to dig in to our inventory. By the end of the day they all had baskets of goodies stashed under the table with their names on it.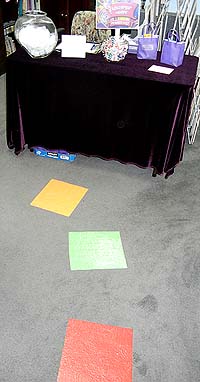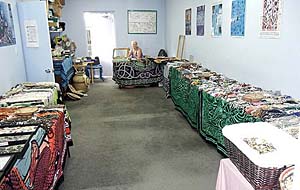 The theme for the store was Candyland, and colored squares were laid on the floor leading to the classroom and trunk show set up in the back. Candy canes were being handed out, and a drawing was being held to win prizes. Several hoppers came in over the weekend to hand in their passports and enter the drawing for the grand prize as they had been to all 22 stores and Creative Castle was their last stop. When asked which was their favorite store, the general consensus was that the question was too hard to answer as all the stores were different and all were worth seeing. Of course, J-ME had to pick up her last charm here, which was a ginger bread man. Yummy!
Sunday rolled around and the 2013 Southern California Local Bead Store Shop Hop was over, and although it was tons of fun, I for one was glad to pack up and head for home. We were tired!
Many of the hoppers will be recovering from all the driving they put in over the three weekends of the hop, and will now be sitting down to make the projects they had envisioned when they had bought all the beads they found while hopping. What fun!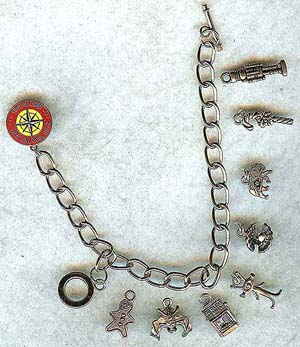 In a couple of weeks the members of the association will meet and go over the results of the bead hop; sales, attendance, mistakes, new ideas for next year, things like that. I heard from Scott that the theme for 2014 has already been decided. This group is on a roll, and the beaders of Southern California are the ultimate winners.
These are the stores we did not have time to visit: (but wish we had)
A Rolling Stone -- Redlands
Bead Island -- Murrieta
Beadology -- Huntington Beach
Beads and More -- San Diego
Beadtopia -- El Segundo
CT's Beads and Things -- Lancaster
Dancing Bear Indian Trader -- Escondido
Monica's Quilt and Bead Creations -- Palm Desert
OceanSky Beads -- Carlsbad
OceanSky Beads -- Oceanside
Oskadusa -- Solana Beach
Phebie's Needleart -- Claremont
To find out more information about the Southern California Local Bead Shop Association and the 2014 bead hop go to their website http://sclbsa.org/Bead_Shop_Hop.html
We leave you with this final plea -- Please support your local Bead Store!
See you there.
"Imagine If a Bead Could Talk"
J-Me and Guy are the owners of Wild Things Beads; a small family run import business specializing in Czech glass beads and buttons. They also run working button and bead tours to Jablonec and Hong Kong. Their warehouse is located deep in the Sierra Nevada foothills of Northern California, and can be reached by phone at (530) 743 1339 or on the web at www.wildthingsbeads.com. They are also open by appointment at their warehouse.