The Czech Bead Industry: The Germans Left Behind
I've always known that after World War Two the Germans living in Czechoslovakia were deported en masse back to Germany as unwanted refugees in a war they lost. These Germans were known as Sudeten Deutsch, and had been living in the region of Bohemia for over 500 years. Although their heritage was German, for many of them they had never been to Germany - nor had any family ties to Germany. They were Czech. (or Bohemian, or Austrian when the region was a part of the Austrian Empire).
Hitler's lust for empire swept them up into the German conquest of Europe as the annexed state of Sudetenland, and suddenly they were a part of Germany again. These were heady times, and while Germany was winning the war they were on top of the world; but when things turned sour and Germany ultimately lost the war, the Czech people turned on their former citizens with bitterness and hatred, and forced them out of their homes and out of their country. In some instances the Germans of Gablonz had 48 hours to pack a bag and leave the country; leaving behind their homes and businesses. The best homes were occupied by Czech residents, and the businesses were taken over by Czech workers who knew how to carry on.
At least that is what I thought I knew from reading history and talking to Czech bead people in Jablonec nad Nisou over the last 12 years when visiting the area buying beads, and even talking to Germans who were deported back to Germany and ultimately settled in Neu Gablonz near Kaufburen where they continued to make glass beads up until the present.
This is not an entirely true account of what really happened.
In May 2011 Jamie and I had an intense conversation with Christa , who we have known for many years. She is well known to the button world because she was working in the Library of Glass and Cutom Jewellery Museum Tourist Information center in Jablonec nad Nisou in 1990 through 1993 when bead or button tourists started coming to town to find beads. Her first American contact was Diane Fitzgerald; then Kathy Dannerbeck from Beads and Beyond in Bellevue, Washington. Pretty soon Christa was the main link to bead and button factories and tours of the region by many people who started importing Czech glass beads back to their countries.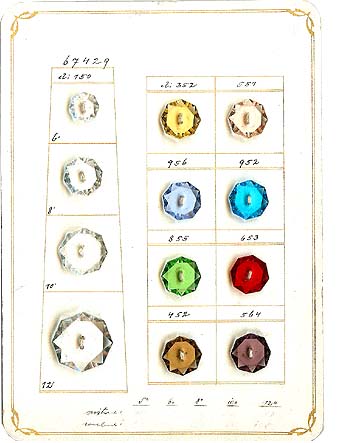 During our special tours, Christa would bring her private collection to our hotel and allow us to dig through it and purchase selected items she was willing to sell. She told us about her personal life story.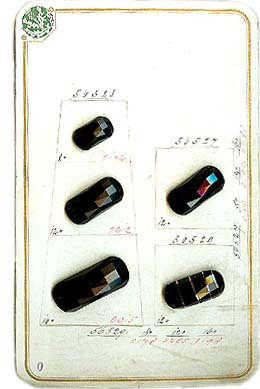 Christa was 4 years old when she and her mother heard that her father had been wounded outside of Vienna, Austria in April 1945. Then they lost contact with him until 1947, when they found out through a Czech neighbor that he was in an internment camp for German soldiers in Poland. Yes, Christa was German….something we never knew before.
Christa and her mother were living alone in their old house all this time. When the Czechs forced all the Germans to leave Gablonz (Jablonec), and Czechoslovakia, the decision was based on many things; the attitude of the individual Germans during the war, the attitudes of the Czechs in positions of authority, and in Christa's case, the condition of her house. It was built in 1730, and in crumbling decay from years of neglect while her father was gone off to war. No-one wanted it, so she and her mother were allowed to stay in it. But they weren't welcome there. They were hated and despised by the Czechs. But with nowhere to go, and not being forced out, they stayed.
In 1947, a letter was delivered to Christa's mother by a Czech neighbor (also despised by the Czech's because they collaborated with the Germans during the war and therefore willing to socialize with Christa and her mother), that her father was imprisoned in a German internment camp just over the border in Poland. The Czech's refused to deliver letters directly to Germans still living in the area, hence the letter being delivered to the neighbor. They were able to petition the local authorities to release him to come home because as a road maintenance worker he had a skill the town needed. He weighed 98 lbs the day he arrived home.
Anyway, after the first, knee jerk reaction of the Czech authorities to deport all Germans from Czechoslovakia, they had second thoughts, because most of the Germans had skills that were needed to keep the community functioning, let alone the businesses previously owned and run by the Germans which were now collapsing from mismanagement.
The last remaining Germans in Jablonec nad Nisou (approximately 5,000) were forced to stay and work in the area, teaching the local Czechs their jobs. It was only in 1964 that these Germans were finally allowed to leave. But by then they were not forcibly deported, just encouraged to leave.
Some Germans were contacted in Germany and invited back to Jablonec, even given their big beautiful houses back to live in while they trained local Czechs their business operations so that beads and crystals and chandeliers could still be made and exported to the world. The Germans weren't given back their business's though, just their houses. And they still weren't liked, just tolerated.
One German couple we had met many years before in Kaufburen, the Blauschkes, had told us their story. They were German lampwork bead makers who had been deported in that initial first wave of evictions from the country, and they had had 48 hours to leave. They lost their house to a Czech peasant family, along with most of their belongings they couldn't take with them. In 1989, right after the Velvet Revolution, they traveled back to Jablonec to find their house, and it was in crumbling disrepair after 44 years of communist neglect. They knocked on the door and an old lady answered and let them in. They had tea and talked to her for hours. They sat on their old furniture, and looked at artwork on the walls that they had owned. It was still all there. The Blauschkes go back every year and have maintained a friendship with that lady ever since.
Another German couple we just met on this last trip live in a small glass town an hour away from Jablonec, a father and daughter team who paint vases and buttons for a living. The father is an Austrian, whose grandfather relocated to the region in 1830, and his daughter is Czech. He speaks only German and Czech; his daughter only speaks Czech. Communication was difficult to say the least, but our friend who was with us spoke some German, so we got along okay. The Father told us he had learned his trade when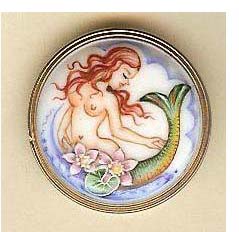 a German painter came through town and taught everyone how to paint with ceramic on glass. He was one of many.
When the communists invaded in 1968 they forced him to work in a huge factory painting vases for export. Each painter had one job painting the same thing over and over, every day, then the next painter would get the vase and paint his portion before passing it on until finally that vase was completed. It was only in 1989 after the Velvet Revolution that he was able to open his own business with his daughter and paint vases and buttons in the style he wanted. He is truly an artist, and has passed it down to his daughter and granddaughter. He still refers to Jablonec as Gablonz, and has bad memories of the war and all the years after. He was a German with no place to go, and the Czechs did not deport him. A lot of what he told us was in German, and Austrian German at that, so most of what he told us was lost in the interpretation.
Both Christa and this father/daughter couple are happy now with their lives. Christa says it is only the old Czechs still alive who remember the war that are still angry with the Germans, and treat her with ugliness. The young people don't care, they are willing to forgive and forget. Christa's house is now repaired and is very lovely. German tourists are welcomed to the area to come for holidays.
=========================================================
J-Me and Guy own Wild Things, a small family run import business located deep in the Sierra Nevada foothills of Northern California. They also lead tours to the bead areas of Czech Republic and Hong Kong. They can be contacted at www.wildthingsbeads.com or by phone at (530) 743 1339.