The Czech Glass Bead: Who's Making It?
Czech glass beads are probably the best in the world, and have been for centuries. But the Czech Republic hasn't been around for centuries, nor has Jablonex, or Preciosa. So who makes these glass beads, and the glass, and who is bringing them to market? And why Czech Republic? Why not Italy, or Germany, or the Middle East?
The answer can be traced through history from many sources; but basically glass was invented in the Middle East, in ancient places such as Babylon, and Phoenicia, by ancient Jews or Hebrews who gained a reputation as the best glassmakers in the world. Glass centers were formed in principle cities for ease of trade, and Venice, Italy became one such city. For centuries, glass guilds attempted to keep the secret of glass making in its own control, to keep others from making this special product. However, by the 8th century, glass manufacturing had emerged in Germany, along the Rhine river.
By the 14th century, King Charles of Bohemia had invited German glassmakers to relocate to his kingdom of Bohemia to establish a glass industry. He could offer unlimited sand, water and trees needed for glass production. All over the Bohemian mountains small towns grew with glass works the center of the life of the village. Jablonec nad Nisou was one such town, having been established in 1356.
Glass making flourished, and along with it new products such as vases, stained glass windows, wound beads (also called lampwork beads) and buttons. The first button mold for pressing glass buttons was invented in 1732, and the first glass bead mold in 1832. New technologies such as machine cutting for crystal beads was invented by Swarovski, who moved away from Jablonec in 1890 and then to Wattens, Austria to avoid industrial spying. In the 19th century, the Riedhl family controlled the glassworks in the region around Jablonec, producing all the glass for all the manufacture of beads and buttons. By the end of the Austrian Empire there were over 2000 agents and exporters of the world famous Bohemian glass in Jablonec. At that time, the town was known as Gablonz nas Niesse, and control of the glass, glass bead and button, and crystal vase/sculpture industry was firmly in the hands of German industrialists.
By the end of World War 1 and the break up of the Austrian Empire, Czechoslovakia came into being. Gablonz became Jablonec nad Nisou, and glass production continued unabated. It slowed during World War 11, and after the expulsion of most of the Germans after the war was reduced to a mere shadow of its glorious past. Only one company could export the glass products from the region, and that was the State run Jablonex. There were still large factories producing glass, such as Jizerske sklo, and Preciosa, who made their own glass to support their crystal chandelier production,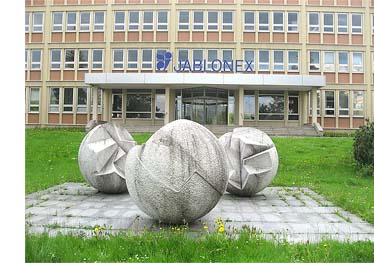 as well as many small cottage industry factories making glass beads and buttons, but all sales had to go through Jablonex. During the cold war, the Czechoslovakian secret police ran spies to the west through this company, and slave labor in the prison camps were forced to make beads also, thereby keeping costs down so as to compete with other glass companies outside of Czechoslovakia, such as in Neu Gablonz, Germany, where most of the expelled German bead makers settled, as well as Swarovski in Austria.
Jablonex was state run, and very huge. During the communist era, it became bloated with hundreds of employees, if not thousands. Nothing could be produced and sold outside Czechoslovakia without first going through Jablonex. Driving around Jablonec nad Nisou today you will see many large, sprawling empty and deserted buildings in 4 or 5 villages around the area belonging to Jablonex.
In 1989 things started to change. The Velvet Revolution happened, and communism ended. Czechoslovakia gained its independence and split into two countries - Czech Republic and Slovakia.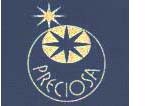 Jablonex lost its monopoly in being able to control the glass industry, and other large glass companies such as Preciosa could now export its products to the rest of the world. So could smaller glass beadmakers who in the past could make their exclusive beads but only market them through Jablonex and its traveling salesmen; now they could sell directly to any customer who found them and export directly to any country they wanted.
By 2000, there were over 60 agents and exporters listed in the phone book in Jablonec, and growing. Also during this time Jablonex was buying up businesses. They purchased the last independent glassworks factory in Jablonec; Jizerske Sklo. Jablonex now controlled what glass could be made, when it would be made, and for how much it could be sold. They also purchased Ornela, the last seed bead factory in Europe. Sounds like a monopoly again. Also during this time frame Swarovski held a 24% interest in Jablonex, and had two members on the board of directors. It was thought that Swarovski was attempting to gain control of the glass bead industry by taking over Jablonex and thereby imprinting its name on the glass industry as the best beads in the world.
But, small cracks were beginning to develop in Jablonex foundation around this time. Managers of different divisions within Jablonex were either being fired or were quitting to start their own bead businesses. The economic crisis was being felt early on in Jablonex, as sales were falling dramatically to competition that was rising around them. Jablonex still was adhering to their distributor philosophy, and would not bring in new buyers. Finally they did, with Fire Mountain Gems. But it was too late for Jablonex to catch up. Desperate measures were taken. Zelezeny Brodske Sklo was closed, and everybody laid off. (They produced most of Jablonex fire polish beads and chandelier parts). Another was Glass SRO, who lost its exclusive contract with Jablonex, and closed due to lack of other business being able to keep it alive. (They supplied many pressed beads for Jablonex). More and more managers left the sinking ship to start their own businesses.
In 2008, Jablonex folded. Everybody was laid off, and buildings closed down and became vacant. The business was up for sale. Later that year, Preciosa announced the purchase of Jablonex. They weren't in a hurry, as there was a lot to clean up. Most of the buildings are still vacant, with "for Sale" signs posted on them.
By 2010, Jablonex was in the last month of closing down its flagship retail store "Jablonex Palace" based in its corporate headquarters building. A month later, it reopened as "Preciosa Palace" in the same location. Nothing looked different.
Preciosa now controls the largest glassworks and bead business in Czech Republic, under the new corporate name of Preciosa Ornela. Preciosa used to make crystal chandeliers. Now they make crystal machine cut beads under the name Preciosa; glass beads under the name Preciosa, but also using the advertising name and logo Jablonex - Traditional Czech Glass Beads.
They still buy their beads from the hundreds of small cottage industry bead and button makers from around the region, and we feel they are still the best glass beads in the world.
So now if someone asks the question, you know the answer.
==========================================================================
J-Me and Guy are the owners of Wild Things, a small family run import and bead tour business located deep in the foothills of the Sierra Nevada mountains of Northern California. They can be reached by phone at (530) 743 1339 or on the web at www.wildthingsbeads.com